Caesars Palace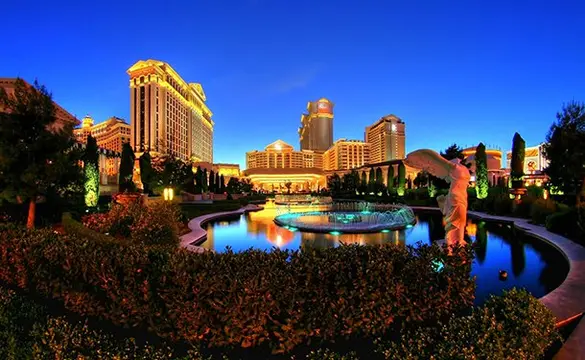 Caesars Palace is located at 3570 Las Vegas Boulevard South in Las Vegas, Nevada. That puts it squarely on the city's famous Strip, a site that it's occupied ever since it opened in 1966. While its primary revenue generator is casino gambling, Caesars is also known for its stage shows, award-winning hotel accommodations and upscale restaurants.
It's also one of the most notable sites among the neon and glitz of Sin City. Caesars has been featured in over two dozen movies and television shows, including Ocean's Eleven, Rain Man, The Hangover and Dreamgirls.
Gambling at Caesars Palace
Decorated in the same Roman theme that pervades every inch of this facility, Caesars Palace includes the following gaming options:
Gaming Options
Racebook – Horse races are simulcast live from around the country, and you can enjoy them in one of 65 private booths, each with a 12" flat-screen TV. There are also several oversized screens throughout the room, as well as 13 betting windows.
Sportsbook – This section offers 140 seats and an array of LED and plasma screen monitors. For four consecutive years, the Las Vegas Review-Journal voted this the best site for sports betting.
Table Games – The selection of table games at Caesars includes the following: blackjack, craps, baccarat, roulette, Pai Gow tiles, Pai Gow poker and three-card poker.
Slots – In addition to reel and video slots, players can also enjoy video poker, blackjack and keno. Wagers start at a penny and go as high as $500 per spin, and Caesars claims to have paid out more million-dollar jackpots than any casino on the planet.
Poker – Games are conducted 24 hours per day in a 4,500-square-foot location. There are a total of 16 tables, and each seat includes USB charging ports and Wi-Fi.
Hotel Rooms at Caesars Palace
Rooms start at $90 per night, but the more luxurious suites can go for much more. Members of the military receive a 10 percent discount, and anyone who finds a cheaper rate elsewhere should see it matched with an extra 10 percent off.
Caesars has 3,960 hotel rooms located in six towers. Each tower has a different designation, and these include the following: Roman, Palace, Forum, Octavius, Nobu and Augustus.
Some of the room types include the following:
Room Types
Forum Tower Deluxe King Room – Includes one king-sized bed, deluxe bathrooms, LCD television and a total of 475 square feet.
Roman Tower Room – Square footage ranges from 350 to 395. Situated with a view of the Palace Casino, this room features one king-sized bed.
Augustus Tower Luxury – Available with one king or two queen beds, these rooms include a sitting room with sofa, as well as 650 square feet of total area. In addition to offering plush pillowtops and Anichini linens, these rooms are situated in a private corridor that provides direct access to the Garden of the Gods pool oasis.
Forum Tower Suites – In addition to the usual level of elegance, the suites located in the Forum Tower are notable for their size, as each offers 1,000 square feet of space.
The Colosseum
First built for a series of Celine Dion concerts in 2003, this 4,296-seat venue has hosted performances from some of the world's leading entertainers. This facility took the place of the Circus Maximus Showroom, which had been around since the casino first opened its doors.
While some artists perform one-night concerts, others appear for weeks or months at a time. Some of the more notable individuals to play the Colosseum include: Elton John, Cher, Celine Dion, Mariah Carey and Rod Stewart.
Caesars Restaurants
From buffets to fine dining, Caesars Palace includes a wide range of dining options. In fact, Casino Player magazine awarded them "2015's Best Variety of Restaurants." Here are some of the most notable eateries on the property:
Restaurants
Searsucker Las Vegas – This is a casual dining experience featuring New America Classic cuisine. Meals are planned and prepared by celebrity chef Brian Malarkey.
Restaurant Guy Savoy – One of the most elegant dining experiences in Las Vegas, this facility serves French cuisine.
Beijing Noodle No. 9 – Offers a casual atmosphere and food based on favorites from northern China.
Mesa Grill – The brainchild of Bobby Flay, this restaurant is known for its margaritas and cuisine with a southwestern flair.
Serendipity 3 – This casual dining experience is all about serving food that doesn't take itself too seriously.
Old Homestead Steakhouse – Includes luxury dining inspired by one of the most renowned restaurants in New York City.
Payard Patisserie & Bistro – In addition to a respected bistro, this site also includes a pastry and chocolate shop to satisfy your sweet tooth.
Nobu Restaurant – Includes upscale cuisine created by respected chef Nobu Matsuhisa.
Gordon Ramsay Pub & Grill – A 290-seat restaurant that captures the feel of a neighborhood British pub. It's the creation of Gordon Ramsay, the celebrity chef who likes to yell at people.
Rao's – Offers an upscale dining experience at one of the best Italian restaurants in Las Vegas.
Bacchanal Buffet – Chefs in nine open kitchens work to provide a selection of more than 500 items.
Caesars Palace remains one of the premier gaming destinations in Las Vegas, but their wide array of activities makes it appealing even to those who don't like games of chance. It's managed to grow and stay relevant thanks to numerous renovations, and there's no reason to think that it won't continue to shine for decades to come.