Survivor Pool Picks For NFL Week 12: Advice For Eliminator & Knockout Pools (2019)
November 19, 2019 – by Jason Lisk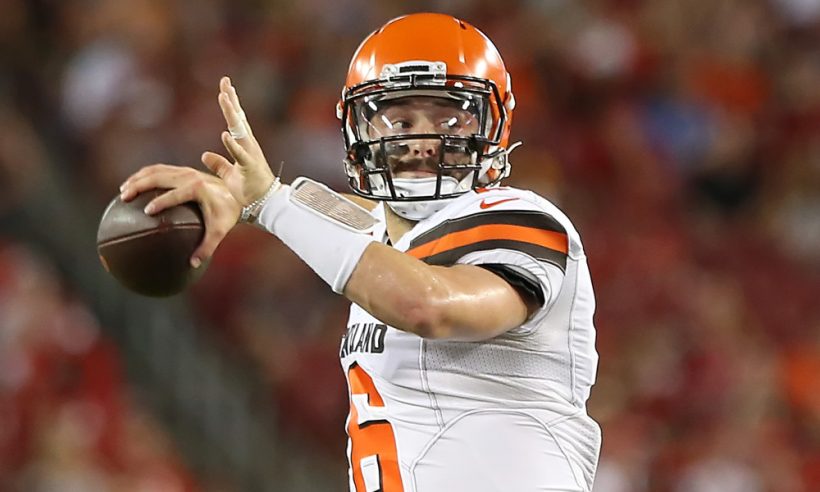 The Cleveland Browns have rebounded and have a chance to move into the playoff picture in Week 13 (Photo by Cliff Welch/Icon Sportswire)
In this post, we'll analyze the five most popular survivor pool picks of Week 12 2019, using the "Holy Trinity" of pick data we introduced in our first survivor post of the season: win odds, pick popularity, and future value.
This deeper level of analysis is big reason why our subscribers have reported nearly $1.5 million in survivor pool winnings over the past two seasons.
This is an early assessment of the Week 12 survivor outlook. If numbers have changed significantly by Friday, we may update it later in the week.
Review Of Last Week's Survivor Picks
After one of the biggest survivor elimination weeks of the last decade two weeks ago, almost every entry survived last week. It didn't always look like that would be the case. Oakland, the most popular choice, let Cincinnati score first and hang close all game long. Minnesota, the second-most popular choice, was behind 20-0 at halftime against Denver before rallying. San Francisco trailed late against Arizona before scoring in the final minute.
Our recommendations largely avoided the extremely popular Raiders, who were selected by over half the public, and went instead with several other teams, led by Minnesota, Dallas, San Francisco, and Buffalo. All of our recommended picks advanced last week. For the public, 3.6% of entries were eliminated, with the largest single contributor being 2.2% of the public going with Carolina.
Week 12 NFL Survivor Pick Analysis: Cleveland Gets Miami
Last week, the Raiders were a popular choice as a large favorite who had been little used to that point in survivor. This week, it's the Cleveland Browns' turn to come on down, as they get Miami at home. Should you go with Cleveland or look elsewhere?
Cleveland Browns (vs. Miami)
Survival Pool Pick Popularity: 42%
Point Spread: -11
Cleveland isn't quite as popular as the Raiders were a week ago, but they are still being selected by over 40% of the public in early numbers, and that could climb as the week continues. The Browns are the largest favorite of the week, getting to host the Dolphins. Our projections have them at 80% win odds (highest of the week) and the betting market implied odds are at 82% for the Browns to win.
Nevertheless, Cleveland is merely a moderate value as a pick this week, because of the vast difference between them and all the other options in pick popularity. The Browns are attractive (in addition to the higher win odds) in part because they have only modest future value. That said, if you do go with a different choice, they are about as good of a pick (by win odds) in Week 14, when they will be far less popular and thus have higher expected value.
There are other teams that we have rated higher as potential value plays this week, to diversify from the public going heavily on Cleveland. If you would like to see some teams we are more likely to be recommending this week, there are plenty of attractive options below.
New Orleans Saints (vs. Carolina)
Survival Pool Pick Popularity: 14%
Point Spread: -8.5
The Saints look like they will be one of our two most popular choices to our subscribers this week. Their win odds are nearly as high as Cleveland (77% versus 80%) and they come at one-third the popularity. The gap between the Saints and all other choices (in terms of win odds) is greater than the gap between the Saints and the Browns, so they can rightfully be thought of as part of the top tier for Week 12.
This matchup has become more attractive due to the play of Carolina in recent weeks, which has sent the Panthers' power ranking plummeting downward. This is also a nice spot to use New Orleans based on future value. We project them to be the betting favorite in all their remaining games, but do not currently project them above 69% in win odds in any future week.
Pittsburgh Steelers (at Cincinnati)
Survival Pool Pick Popularity: 12%
Point Spread: -6.5
We are likely to be higher on the Saints than the public, but lower than the public on the Steelers. Pittsburgh has similar popularity to the Saints, but the dropoff in win odds (77% to 68%) drives Pittsburgh's value down. Note that Pittsburgh center Maurkice Pouncey may miss this game, as he is currently appealing his three-game suspension arising from the Myles Garrett incident at the end of last week's loss to Cleveland.
Chicago Bears (vs. New York Giants)
Survival Pool Pick Popularity: 8%
Point Spread: -6.5
The Bears' game is one to watch as we await news on who will be starting at quarterback for Chicago, as Chase Daniel replaced Mitch Trubisky at the end of Sunday's loss to the Rams. Where the odds settle in as a result of that decision could ultimately impact how much value there is in taking the Bears.
As of right now, Chicago has the third-highest win odds in both the betting markets and our projections, but that could shift with any line movement.
Detroit Lions (at Washington)
Survival Pool Pick Popularity: 8%
Point Spread: -3.5
Detroit is a somewhat popular choice this week, presumably because they are playing woeful Washington. But this one is on the road, and Jeff Driskel is likely to be playing quarterback for Detroit, instead of Matthew Stafford. So this is a riskier choice, with a fair amount of popularity. There are other options (like Atlanta as a slightly larger favorite with far less popularity against Tampa Bay) that come at a similar or better risk profile, but are far more diversified from the public market.
Remember to Get Customized Week 12 Survivor Pick Advice
If you are a survivor pool picks subscriber, you have access to the customized survivor picks for your specific pools. Remember that the information here is written earlier in the week, is a more general summary of the week that may not be applicable to your pool rules, and some information could be outdated by Sunday. It also doesn't include more analysis beyond the most popular picks, and value can often come from unpopular choices. Pick popularity can change over the course of a week, and injury news and line movements can alter which picks are the best for your pool. So don't forget to visit our NFL Survivor Picks before your deadline to submit picks, and also visit the Football Pick'em Picks and NFL Betting Picks.