Perfect Draft: 2nd in a 10-Team ESPN PPR League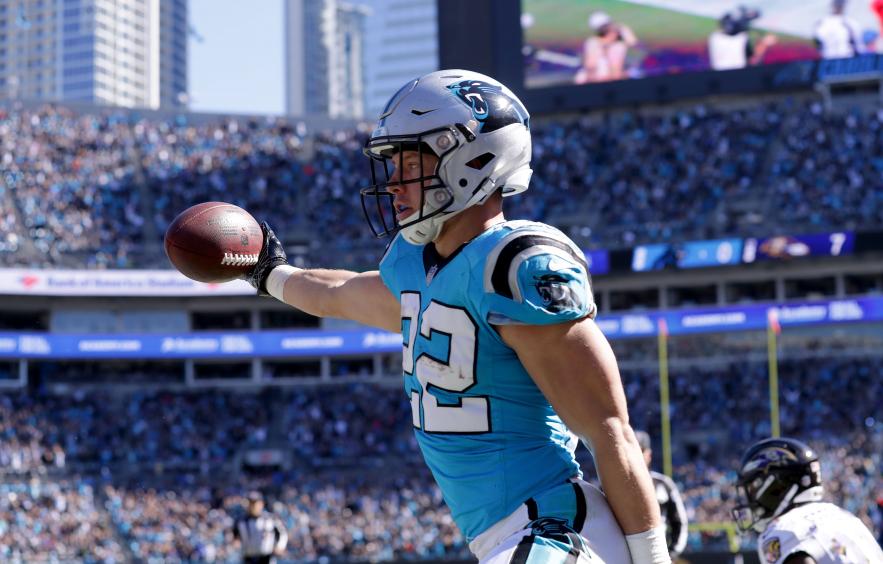 For my fourth perfect draft article, I wanted to choose my favorite draft position this year. It took me a while to figure out exactly which position was my favorite, but the second slot is far-and-away the best choice for me in PPR formats. There are questions across the board with most of the top prospects, but for me, the two top running backs present safe choices with extreme upside. Either could easily wind up the top scorer by the end of the year and, barring injury, neither should finish anything less than a solid RB1.
In this edition of the Perfect Draft Series, I'll be walking through a perfect draft from the 2nd slot in a 10-team PPR league. Each pick was optimized using projections and value-based rankings from the 4for4 Draft Analyzer tool.
Draft Analyzer Settings
Roster settings: 1QB, 2RB, 3WR, 1 WR/RB/TE, TE, K, DEF, six bench spots.
No Quarterback Restrictions: Normally I wait a long time before drafting a quarterback, but in practical application, I tend to start looking at the position around the late-fourth round to see if there is value available. As such, I kept my options open in this case. If Patrick Mahomes fell to the fourth round, I wanted to at least consider the option of selecting him.
Only One QB and TE: I planned to target tight end early, which means I didn't feel the need to take a backup, unless I missed out on one of the top three options early on. With quarterback, there are several quality options available at the end of every draft, so I figure the waiver wire shouldn't be a problem if my starter gets hurt or disappoints and I need to shift to streaming the position.
I'm Just Gonna be Wrong: Every year there's somebody the entire fantasy world likes that I simply don't. I can't always put my finger on it, but it seems there's always someone I'm not believing in. Some years I'm right, like in 2009 with Steve Slaton. Other times, I hated Travis Kelce before his breakout second season. Last year, I got an incomplete, as Jerick McKinnon got hurt before I got to find out. This year, it's Damien Williams. I understand why everyone loves him. I understand the situation he's in. Still, I'm just gonna be wrong on him. I simply don't see it. I'm not convinced it won't be a committee in Kansas City, so I'll let another owner spend a third-round pick on him. And as always, I still don't want Tyreek Hill on my roster.
No Ks or DSTs until the last two rounds: I'm consistent about one thing. There's no need to take a defense or a kicker until the last two rounds of the draft, in that order.
Round 1, Pick 2 – Christian McCaffrey, Panthers

As I've mentioned in my previous perfect draft articles, I try to be very conservative in the first round. I ran this simulation many times, and more often than not, Saquon Barkley was the first pick. When he wasn't, McCaffrey was. This is why the second pick is my favorite draft position this season, specifically in PPR formats. I love both these guys. With an extremely high floor due to the number of targets they each receive in the passing game, both are fantastic anchors to build a fantasy roster around. I'm not opposed to going with DeAndre Hopkins, Draft Analyzer's top recommendation, but I have him third on my board, with McCaffrey the clear number two option in this format.
McCaffrey has caught an astounding 187 balls over the past two seasons, including 107 last year. He gained 1,098 yards on the ground and another 867 receiving in a monster 2018, and scored 13 total touchdowns after only seven as a rookie. While touchdown regression seems likely, his status as the focal point of the offense should remain unchanged. The Panthers use him all over the field and will continue to feed him targets. The team added only late-round picks to their backfield in the offseason, so there's no reason to suspect they'll stop using him extensively in the run game – he had 219 carries last year – though it's possible he'll lose goal-line work to his quarterback or one of the bruising backs on the roster. Still, even a reduction in touchdowns from last year won't stop McCaffrey from being a PPR monster, and I'm confident he's the right pick in the second slot in this format.
Each round, Draft Analyzer suggests the top available suggestion along with four alternatives, as shown at the top of this section. Throughout the rest of the article, I will note those suggestions as well as my top alternative to the player that I actually selected.
Round 2, Pick 9 – Mike Evans, Buccaneers
With Jameis Winston a bounce-back candidate under new head coach Bruce Arians, the buzz around his top receiver has been surprisingly quiet. Evans has had over 1,000 yards receiving in each of his first five years, and he's averaged eight touchdowns per season over his career. Last year, he had a career-high 1,524 yards and averaged 17.7 yards per catch. With Arians in town, expect the Buccaneers to throw the ball a ton, and for Evans to thrive. He has a high floor and I was excited to grab him at the end of the second round to be my primary receiver.
Draft Analyzer's top suggestion here was George Kittle, who I like in this spot, but with a look at the available players, I decided to wait. Picking in the second slot, I knew the same owner would be selecting twice before getting back to me. Because both Kittle and Zach Ertz were available, I knew it was highly unlikely the owner in the one slot would draft back-to-back tight ends. As a result, I went with Mike Evans, who I value a lot higher than the other receivers available, and decided to grab whichever tight end remained in the third round.
Round 3, Pick 2 – George Kittle, 49ers
It turned out Kittle and Ertz were both still on the board in the early third round, so I took my preferred option and nabbed the young 49er. The owner with the first pick ended up going with a receiver and a running back, so I was glad I got Mike Evans while I could. Pick 22 is a good spot to grab Kittle and is right around his ADP. I'd be happy with Ertz as well, but I prefer Kittle because there are fewer mouths to feed in San Francisco.
Kittle led all tight ends last season with 1,373 yards, and while he scored only five touchdowns, he was the key target for the 49ers throughout a forgettable offensive season. He had more than twice the targets of anyone else on the team and should continue to be elite. I love Kittle because he'll be only 26 years old in October, has a nice rapport with both 49ers quarterbacks, and can line up inline or in the slot.